HAGEN-RENAKER MINIATURE BEARS
1. Papa Teddy Bear with yellow bow tie, #A-10, 2", 1949-1950 only, mold also used by Beachstone in the 1980s using different coloring; 2. Mama Teddy Bear with yellow umbrella & apron, #A-1, 2", 1949-1950 only; 3. Baby Teddy Bear with yellow porridge bowl, #A-30, 1 1/4"", 1949-1950 only, mold was also used by Beachstone in the 1980s using different coloring; 4. Papa/Mama Bear w/paws on hips, #A-226, 2 1/2", 15s (1950s & 1980s);
1>

2>

3>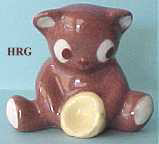 4>

5. Baby Bear, #A-216, 1 1/4", 17s (1950s & 1980s); 6. Baby Bear, #A-215, 1 1/2", 17s (1950s & 1980s);
5>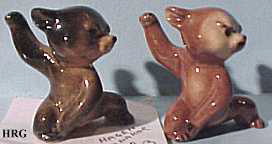 6>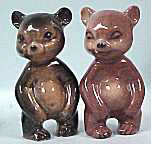 7. Bear (sold as grizzly & polar), #A-328, 1 1/4", s57, f69, 1973, s80-s93;
7>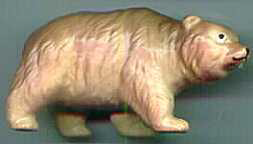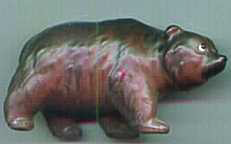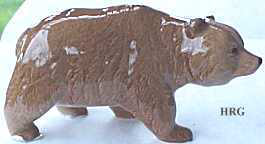 8. Baby Bear (was sold as a grizzly and polar), #A-329, 1", brown in the late 50's, white & off white from s80-s91;
8>



9. Mama Teddy Bear, shown are two colors from the 70's & two different blue dresses is from the 50s - one with porrige bowl & one with dress to neck, #A-465, 1 1/8", 14s (late 50's & again in the 70's), mold brought back to the current list starting fall 1999 with a teal colored dress; 10. Floor for the teddy bear family, #A-996, 2s (f76-s77);
9



10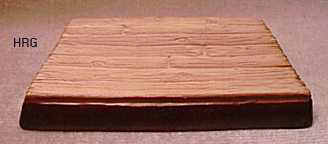 11. Bee's Nest, #A-404, note different logs used, 1/2", 4s starting s60;
11>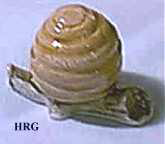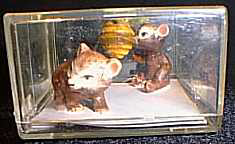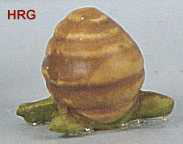 12. Brother Bear Cub, #A-397, 3/4", 41s off & on from s60-s88; 13. Sister Bear, #A-401, 1", 41s off & on from s60-s88;
12>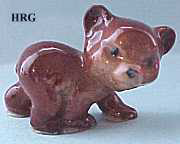 13>


14. Panda on two legs (paint variations), #A-494, 1 1/2", 24s ('60s & '90s); 15. Panda on three legs, #A-493, 1 1/8", 24s ('60s & '90s); ** reissued 2000 with pink noses (last picture);
14>


15>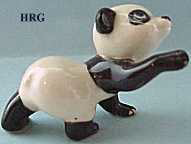 >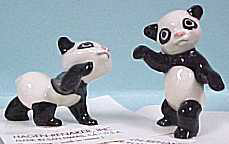 16. Panda on two legs, #A-952, 1 3/8", 4s (s78-f79); 17. Panda on three legs, #A-951, 1", 4s (s78-f79); 18. Mama Polar Bear, #A-942, 1 1/4", 17s (s80-s88);
16>

17>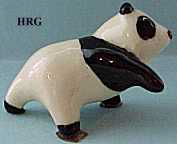 18>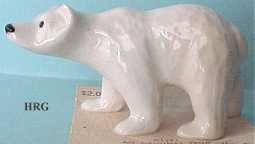 19. Baby Piano Bear, #A-809, 1", 9s (s82-f84); 20. Mold variation on the Adult Piano Bear, #A-807, 2 1/2", eyes open = s94-s95, singing = s82-f86; 21. White Grand Piano, #A-808, still available in black, white - 11s (s82-s87);
19>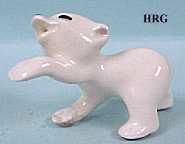 20>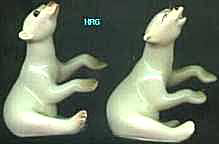 21>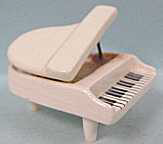 22. Roller Skating Bear, Big Sister, #101 (mold used again as #877 below), 2", 2s (1983); 23. Roller Skating Bear, Big Brother, #102 (mold used again as #876 below), 1 5/8", 2s (1983); 24. Roller Skating Bear, Little Brother, #103 (mold used again as #878 below), 7/8", 2s (1983);
22>

23>

24>

25. Ski Bear "Gussie" w/ wood skis, #876, 1 5/8", 3s (s87-s88); 26. Ski Bear "Hot Dog", one foot up, #877, 2", 3s (s87-s88); 27. Ski Bear "Sitzmark", on back, #878, 7/8", 3s (s87-s88); 28. Bear with Honey Pot, lying on his back, #3011, 3s (s91-s92);
25>

26>

27>

28>

29. Black Bear, #3136, 5s (f93-f95); 30. Grizzly Bear, #3084, 7s (f92-f95); 31. Grizzly Cub, sitting, #3086, 2s (f92-s93);
29>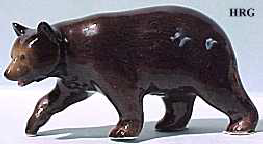 30>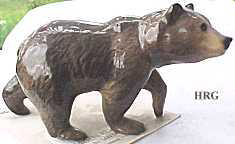 31>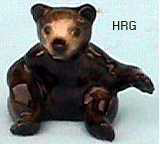 32. Grizzly Cub, walking, #3085, 2s (f92-s93); 33. Little Brother Teddy Bear - mold variation (note right front paw down in front instead of left), #467, the first bear pictured was issued in 1959 with mom & big brother Teddy, The second picture is the mold for teddy used 1970s-1990s, it was the same as the Disney Peter Pan Teddy Bear mold #5062a (Disney 1957-1960);
32>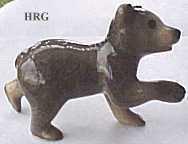 33a>

b>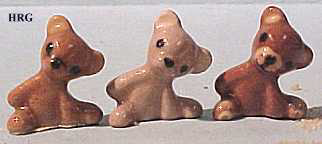 34. Bear Ma & Cubs, #3382, sold together on base or as three separate pieces, fall 2002-present; .
34>

Copyright © 1998-2009 Eagle Ridge / Jane Chapman All Rights Reserved.
Please do NOT use images from these pages on your own web pages or for any commercial (sales) use.
Links to these pages are welcome, but, please, no direct links to individual images.